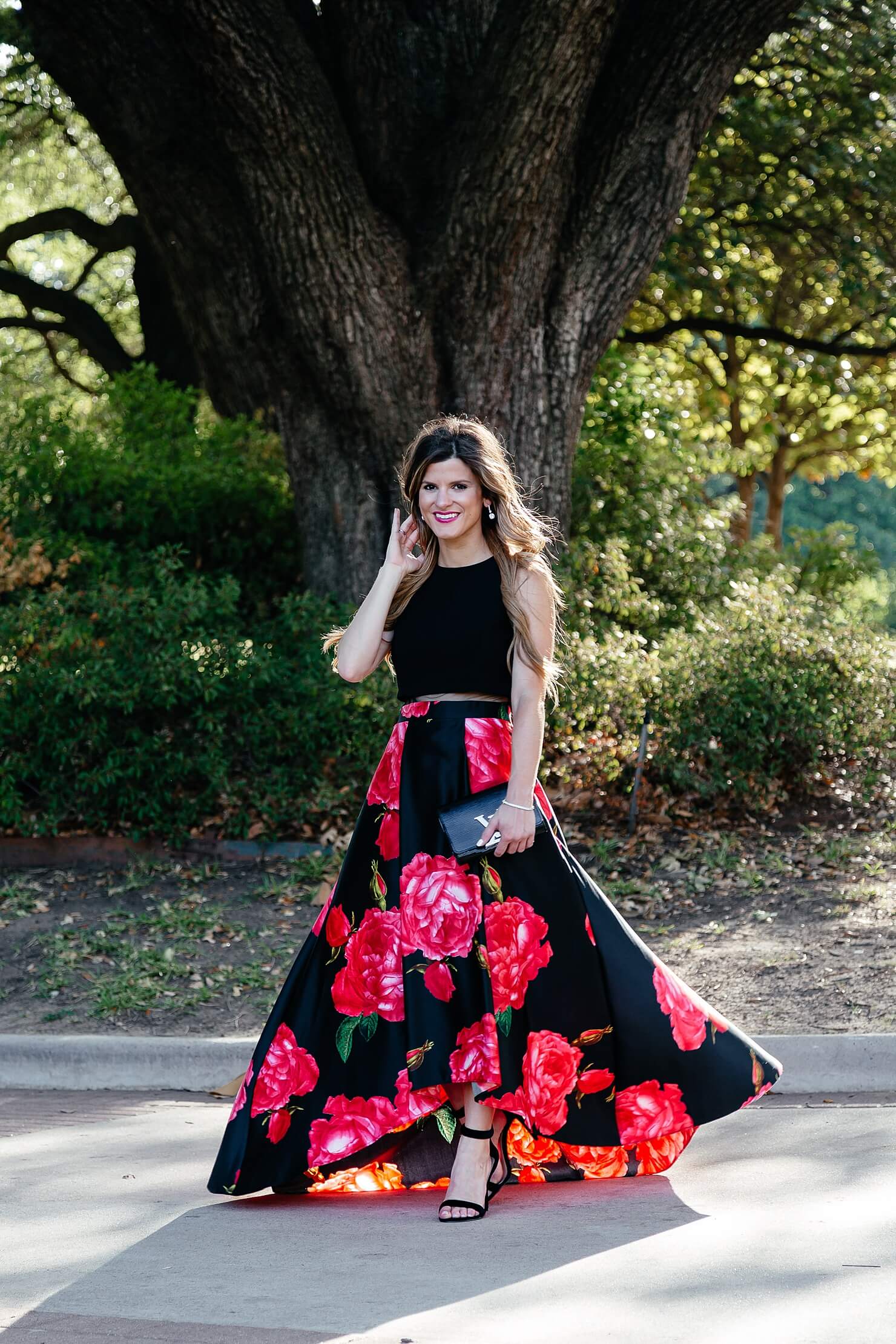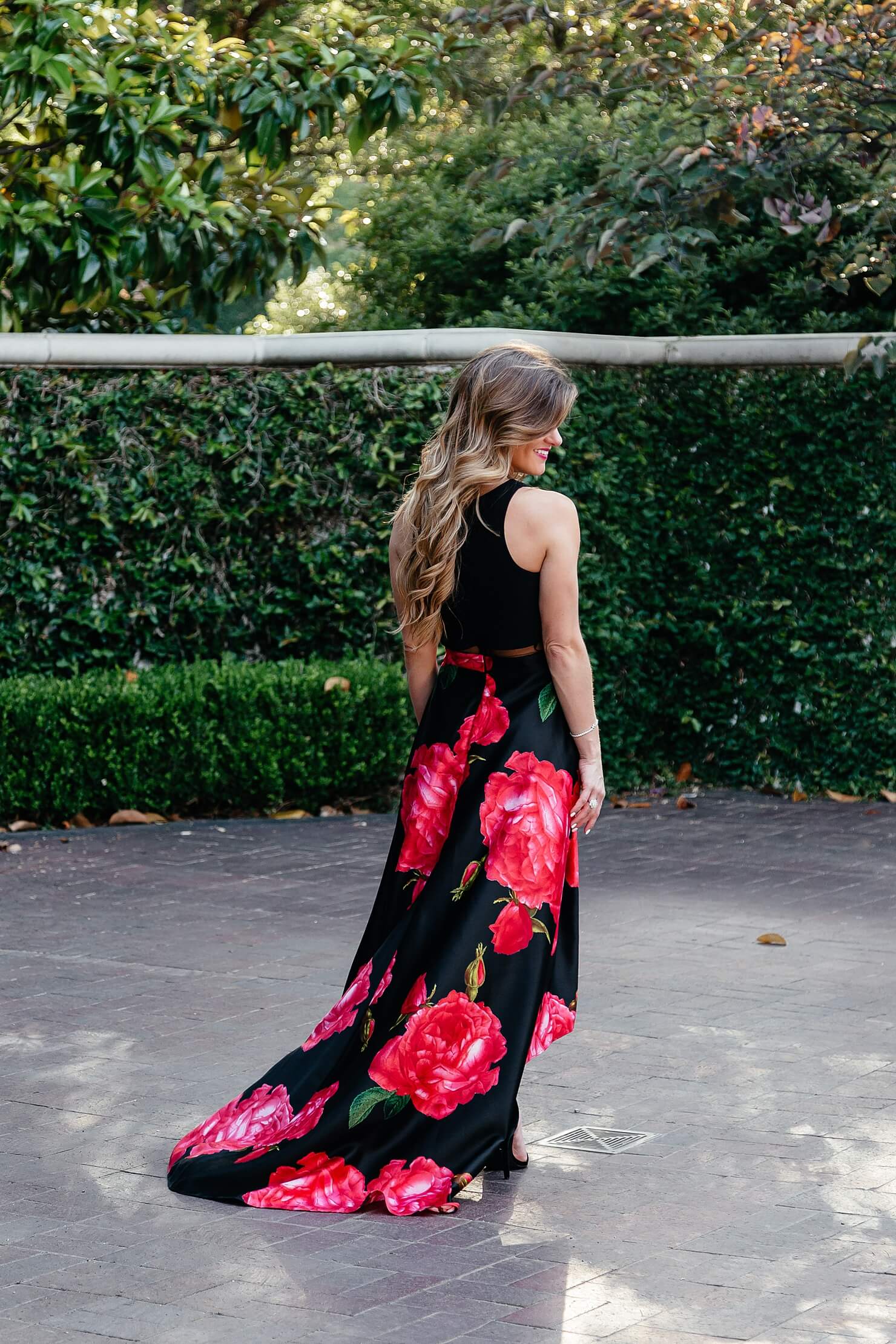 I'm getting fancy on y'all today! For real though, I had so much fun putting together this post. I've talked about what to wear to weddings and wedding-related events before on BTD, but I've never done anything quite this glamorous when it comes to wedding attire – and I loved it. Plus, I've never dedicated an entire blog post to talking strictly about what to wear to a BLACK TIE wedding. So I thought it was about time to add this topic to the mix.
This dress is of course on the fancier side of things and what I'd wear to a black tie wedding (or event in general – a gala or something along those lines). Black tie dress code isn't actually too uncommon for a wedding, especially here in the South, so I wanted to dedicate a full post on my thoughts regarding how to dress for them. I've heard that it can be the most challenging attire of them all, so hopefully what I have outlined here – and the example of what I chose to wear – helps. But if not, let me know if you still have questions!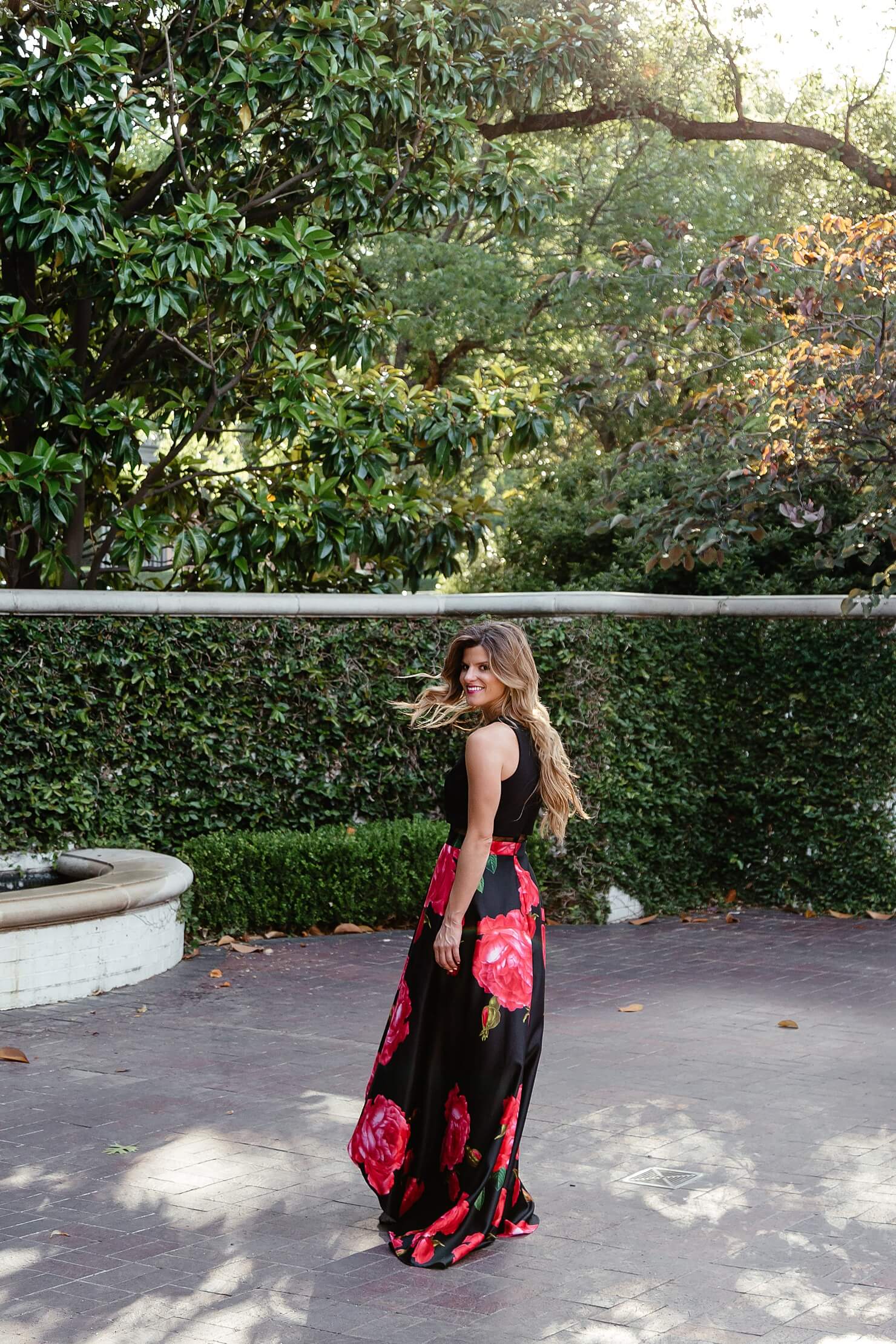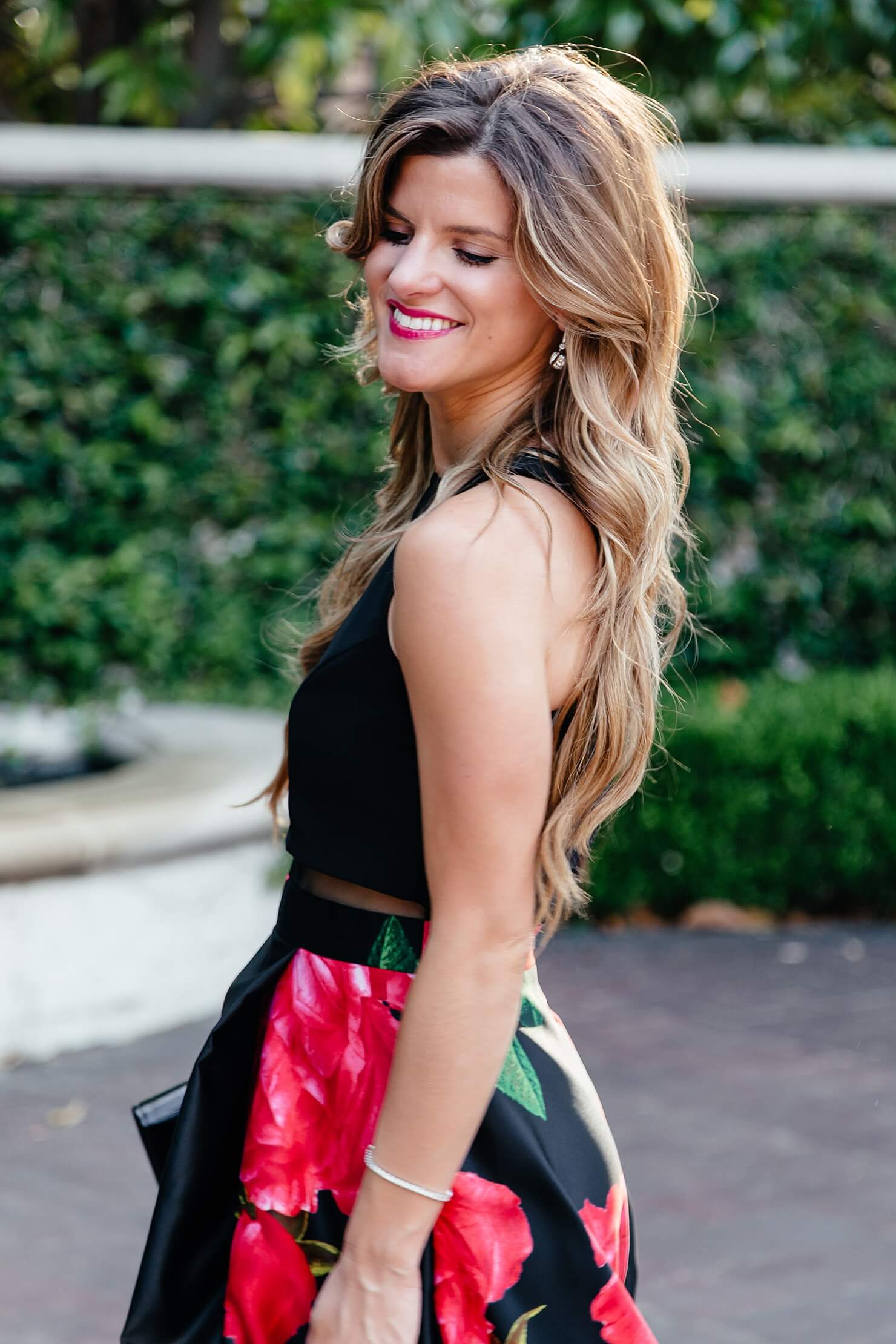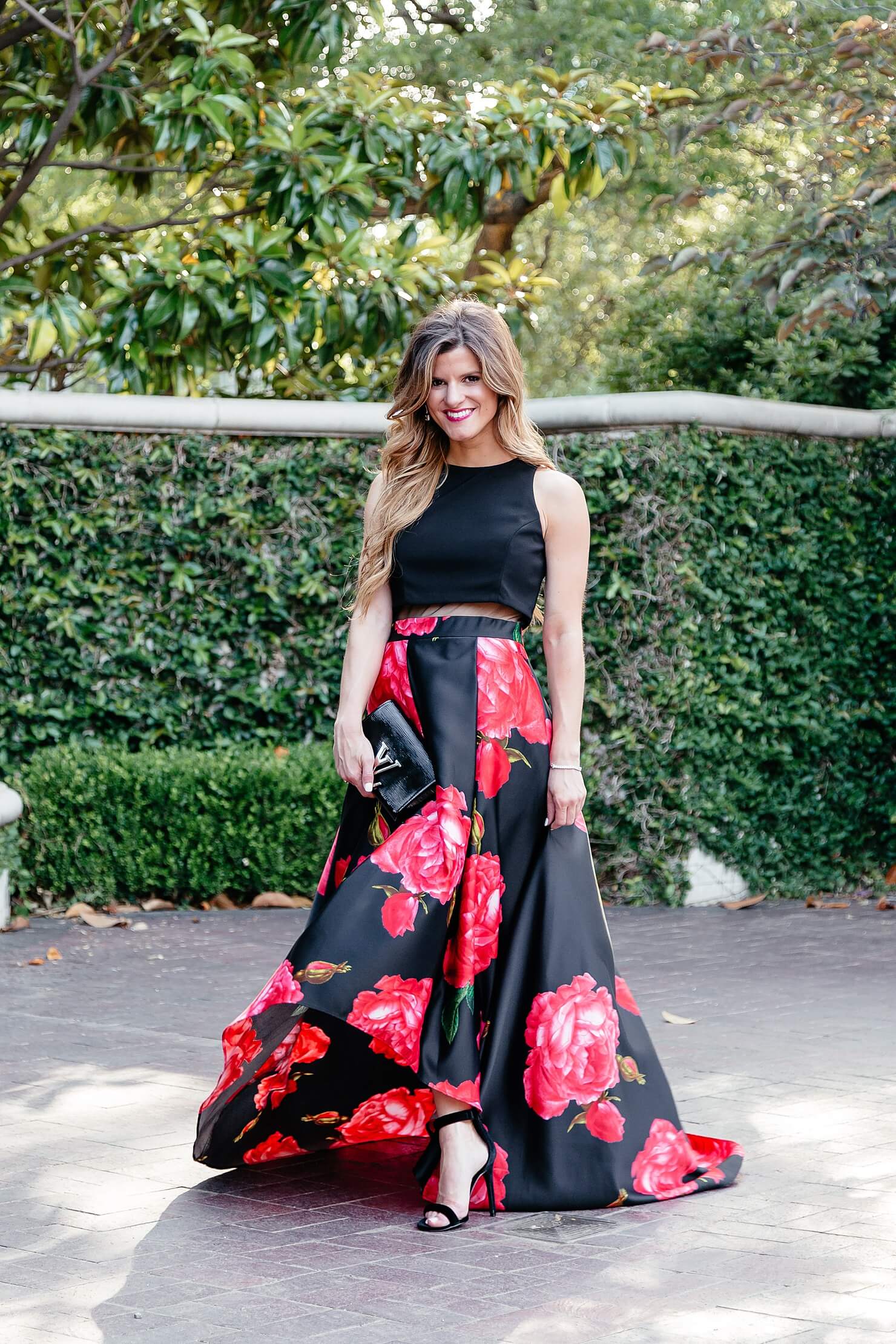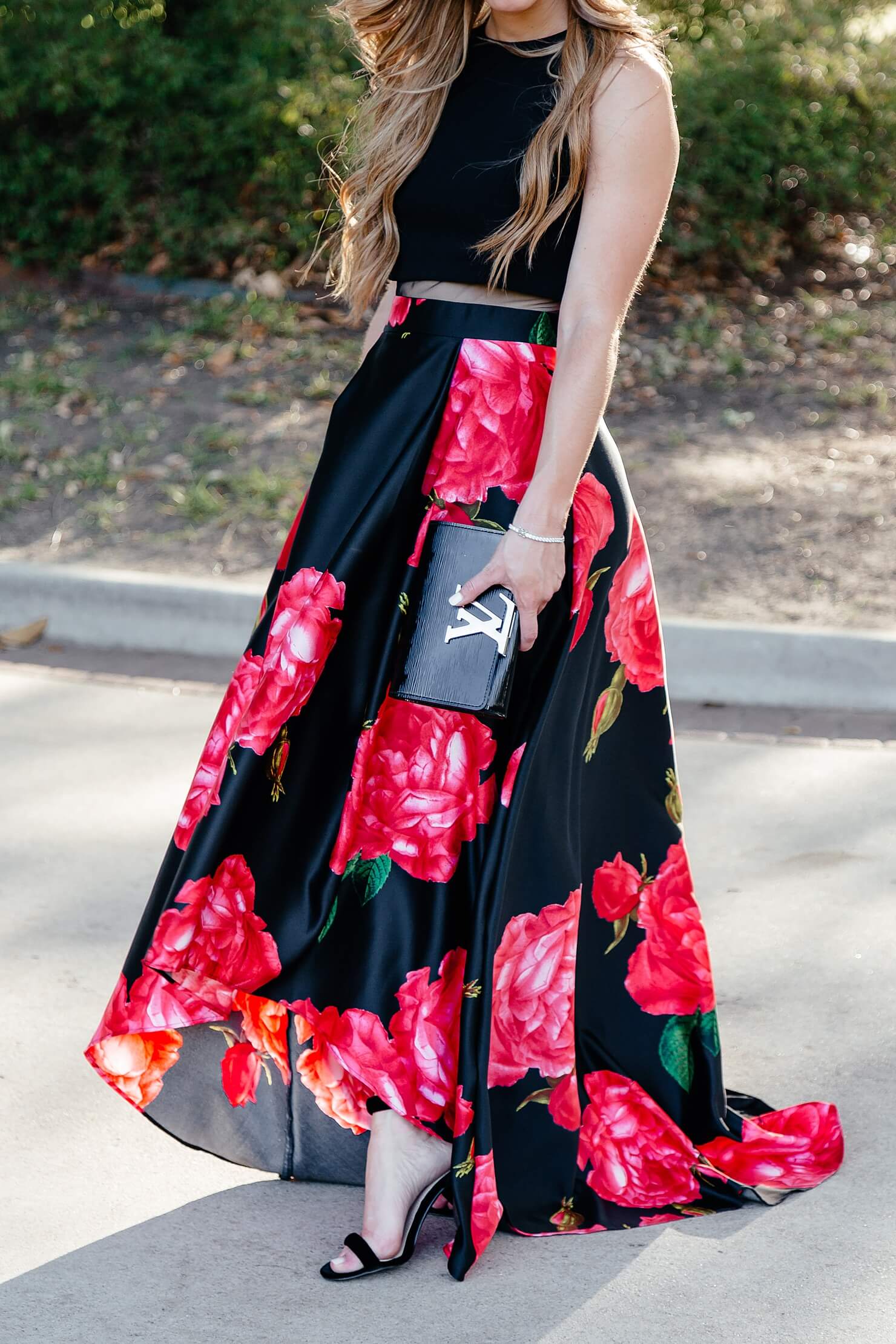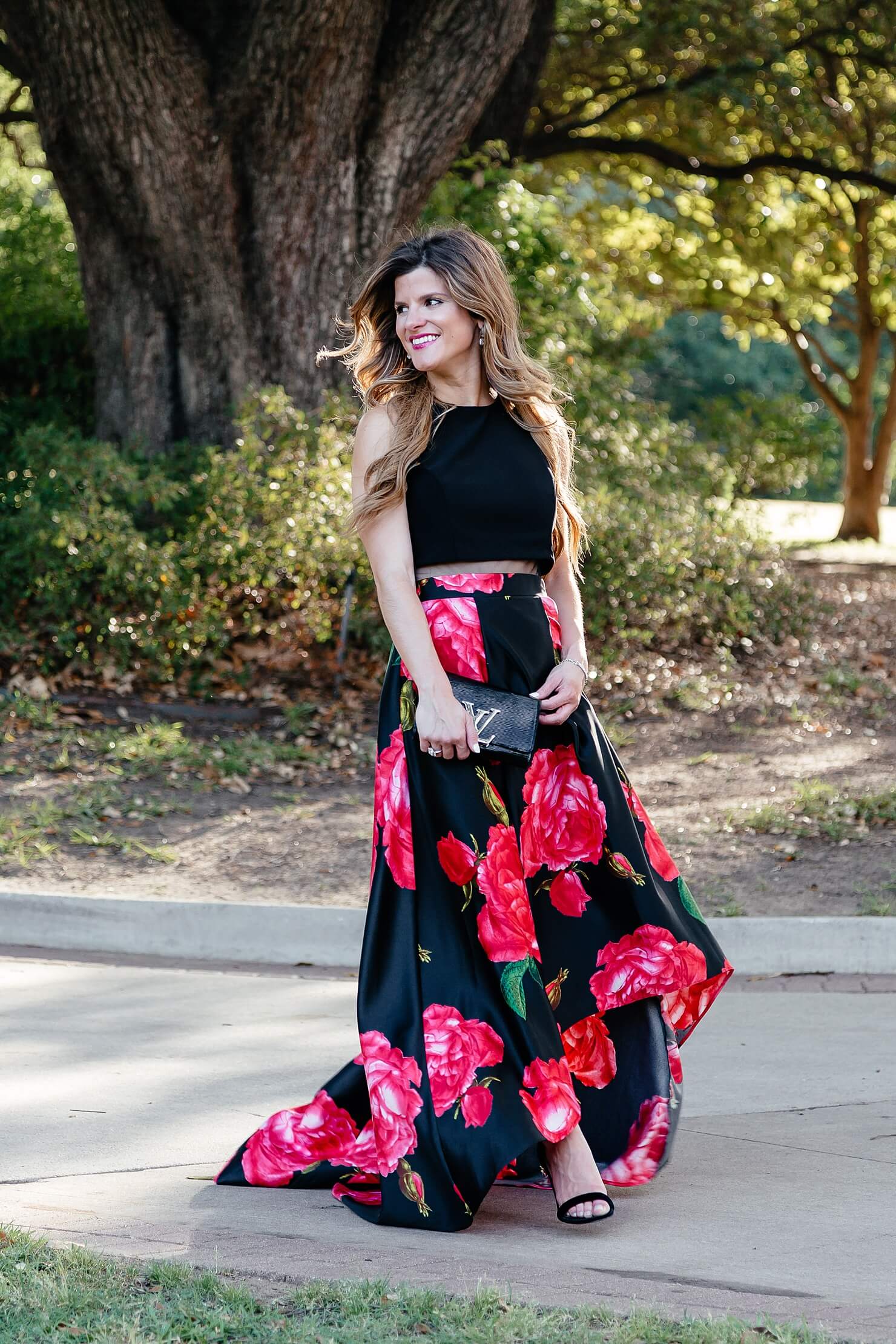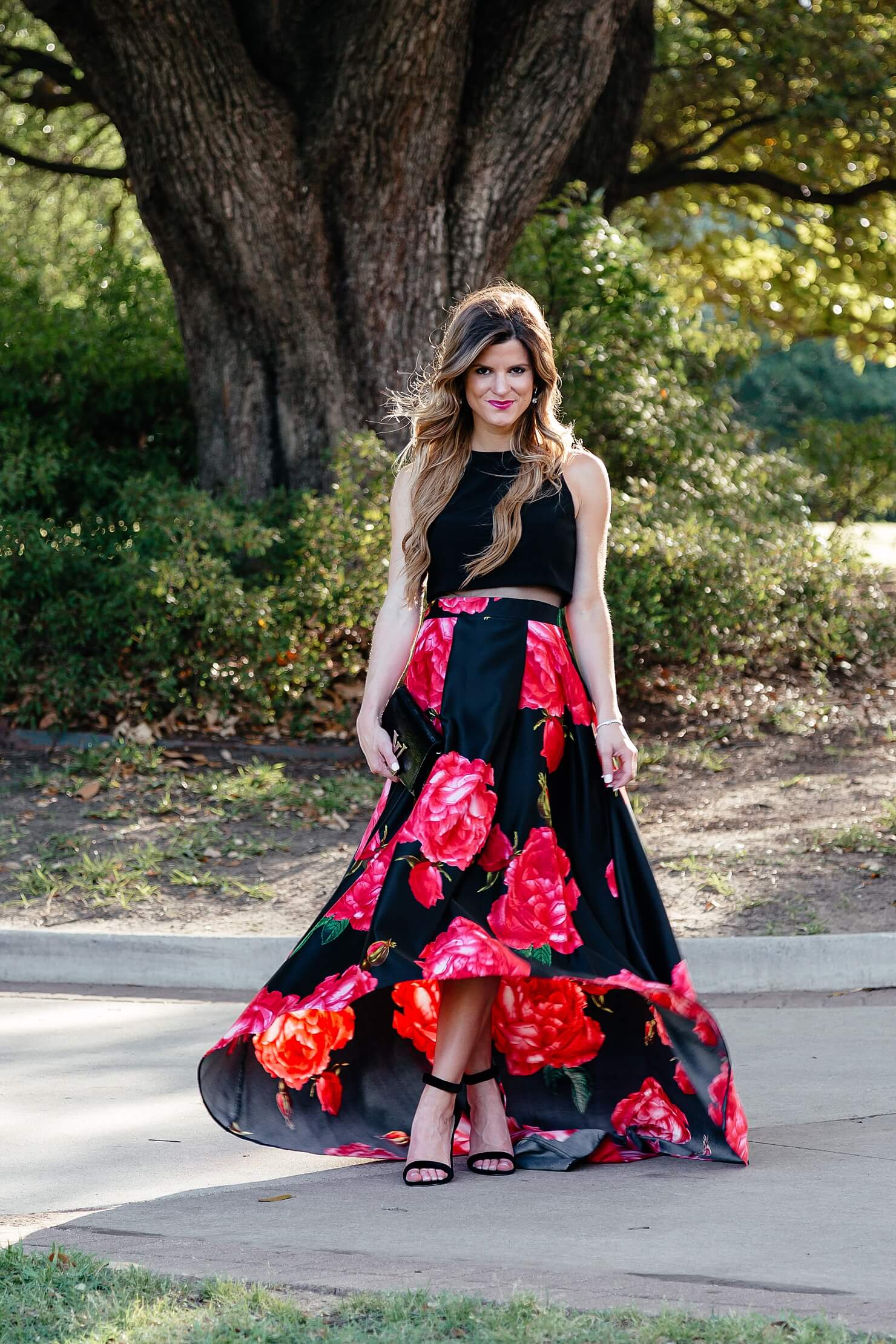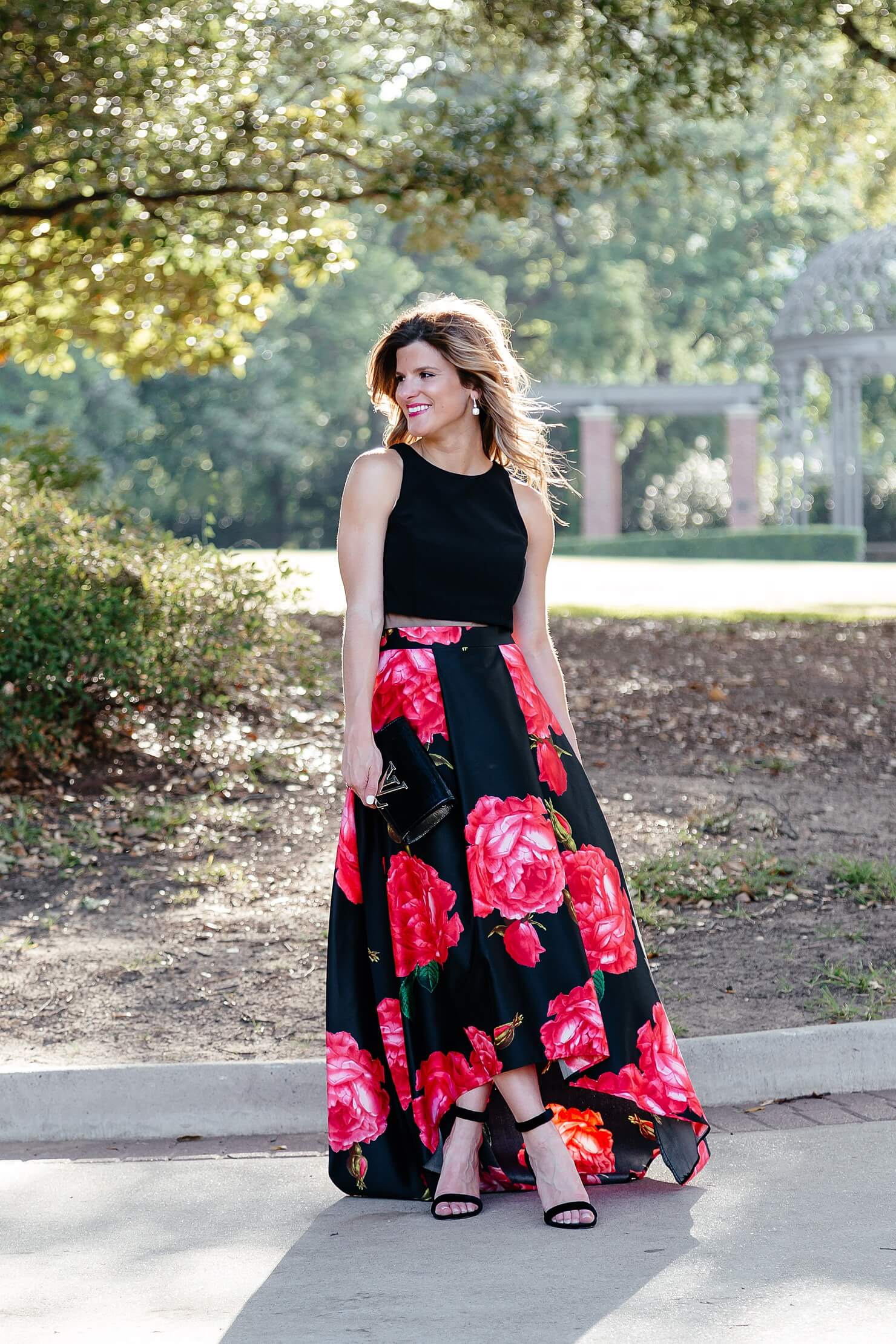 What to Wear to a Black Tie Wedding
After thinking about it for a bit, I decided it made the most sense to break it up into different parts of the black tie "outfit". I'll be covering the hem length, colors & textures, coverage, accessories and shoes; in other words, the full head-to-toe considerations list. As always this is just what I know from my experience – there are always exceptions to the rule and different circumstances for any kind of attire or event. With that being said, let's get right into it!
I did a little research and saw some sites saying that you can get away with a knee-length (or even above the knee) for black tie, but I disagree. I think that if the dress code calls for black tie, you're best off wearing something that's at least a midi-length dress. You don't want to be unsure and questioning yourself, then show up and be the only person in a cocktail dress. Plus going longer (or more formal) is fun every once in a while anyway! If you have a date, he'll likely be in a tux or at the least a nice suit, so you want to match that level of elegance – which I don't think a cocktail dress necessarily does.
Now, it's not to say you have to wear a floor-length gown or have a train or anything. You can still wear something that suits your body type, style, and the season. You'll see that I had a little fun with the hem in this dress. I LOVE the high-low hem line action- it feels fresh but fitting for the dress code, right? You could even get away with wearing a jumpsuit if it follows the guidelines I lay out below, but again, make sure the length is appropriate.
Bottom line, stick to mid-length or longer and you'll be in good shape!
The easy part about dressing for black tie is that there aren't any "new" rules for colors or anything like that. You can't wear white, obviously, but just like any other wedding dress code, you can wear pretty much any color. You just want to make sure it's season appropriate, just like you always would. Print wise, same story – focus on the season. Florals can be nice for spring and summer, and a navy, black, red can be perfect for winter or fall.
Texture is important and garners more attention than say a cocktail wedding dress code. Linen, cotton, or anything too summer-y or sheer is never OK for black tie. Focus on silk, quality polyester, beading, embellishment, or anything that feels more luxurious.
Black tie is not the time to wear your most revealing dress or show a ton of skin. BUT, that's not to say you can't feel and look good! Take my dress here for example. I love how the hem shows off a little skin and my shoes, acting almost like a slit, but in a conservative way. It's also sleeveless, obviously, but the high neck takes away from showing off too much. Then, the illusion of the top/bottom function of the dress (it's only one piece!) adds a hint of sexiness, but again in a classy way. This is the most I'd show in my midriff for a black tie. No part of my body is over exposed, but there are little pieces that still made me feel flirty and fun, ya know?
David's Bridal has a ton of amazing options like this for black tie. I don't know about you, but I actually didn't know they had so many options for GUEST of-a-wedding dresses! DID YOU? I was actually super thrilled to work with them on this summer campaign because I feel like you guys are ALWAYS asking for wedding dress help! And one of the frequently asked questions I've gotten recently is what to wear to a black tie wedding in the summer – as I feel like having a fancier wedding in the summer is LESS common than in the winter – it can be a little tricky when figuring out what to wear. So it was the perfect opportunity for me to actually make this post happen!! They have SEVERAL options! 
Heels are a must for black tie (unless of course you have some circumstance where you absolutely can't wear them). But for most of us who are able, grab you favorite heels. Flats or sandals – that maybe you can pull off at a beach wedding or somewhere super casual – won't do it for black tie. Plus, you likely need a heel with a longer dress, so it just makes sense. I wore these skinny strap ankle heels that can pretty much go with any wedding guest outfit ever, and love how they look with the dress. Again, fancy enough but also feminine and on-trend.
Now, I totally understand that buying a dress for a black tie affair isn't super affordable – longer dresses usually cost more, especially if they have detail like beading. If you're tight on cash or want to make a dress that you've worn before work, just make sure your accessories are on point. They can really elevate a dress that's on the edge of being dressy enough.
Diamonds are classy, it's just a fact, so that's my choice of jewelry when it comes to black tie. I'm obsessed with these diamond drop down earrings (which you can find at all different price points – they don't have to be real obviously, just make sure they look like good quality), and a tennis bracelet will always be a good choice.
If you're not a diamond girl, pearls and other pretty, quality jewelry will totally work. Just avoid anything too flashy or trendy – it'll take away from the elegance of the black tie dress code. Makeup and hair wise, same thing – feel free to spice things up with a braid or a dark lip, but this isn't the night to try out glitter eyeshadow or anything extra crazy, ya know? You want to look classy and beautiful!
A simple clutch – something pretty small – is your best bet for carrying your belongings. A cross body or a tote is too casual for this event.
OK y'all, that's about it! A proper hem length, not too much skin, heels, and some classic accessories and you'll be golden.
*
Did I miss anything? Slash do you have anything to add?! let's chat in the comments below!
I want this post to be a resource for y'all – as this is actually one of my most FAQ! Oh also, if you're looking for even MORE information on what to wear to all types of wedding (specifically in the Summer), be sure to check out David Bridal's summer wedding guest dressing guide – it's great!