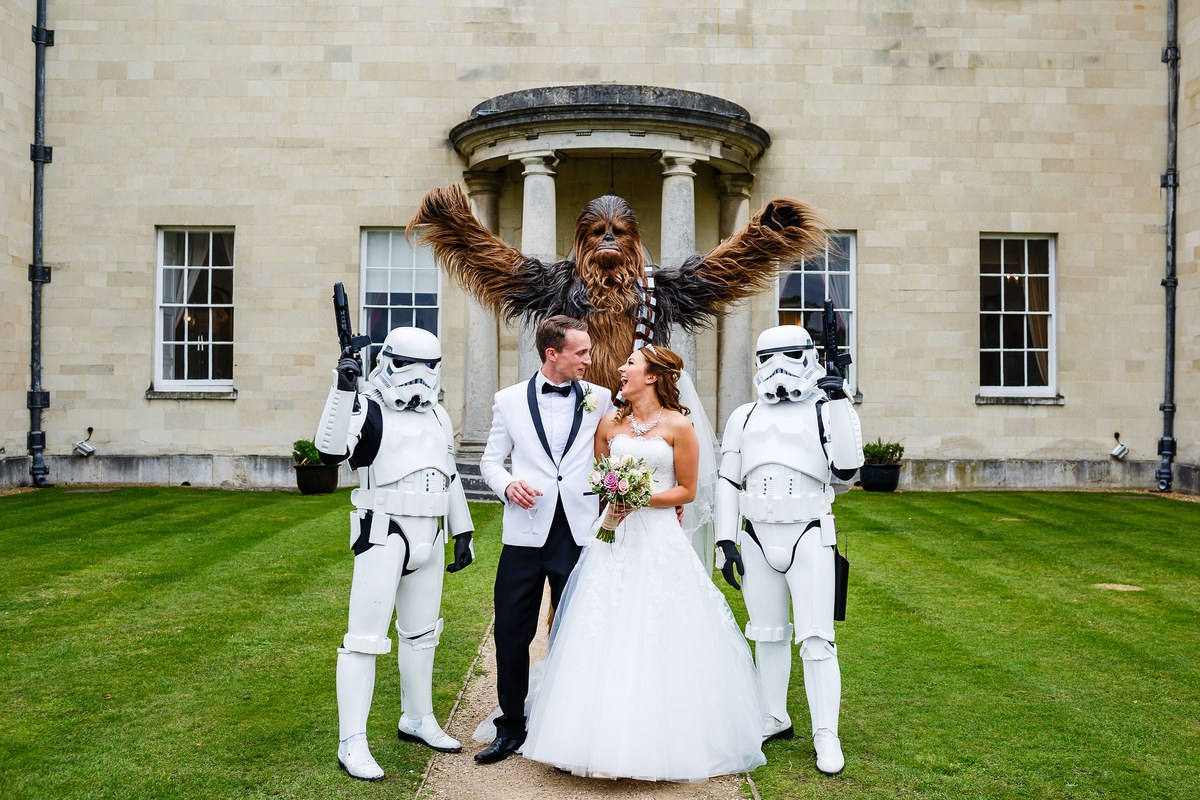 Solving the most head-scratching dress codes we've ever seen, from "Barnyard Chic" to "Brooklyn Formal" and more.
Summer wedding season can be a nightmare for many reasons (traveling to places you don't want to go, mingling with people you don't really like and/or are related to, blowing all your disposable income buying toasters and serving plates as gifts for other people). But there's nothing more annoying or stress-inducing than the last-minute scrambling to buy new clothes/shoes/accessories in service of some arbitrary wedding dress code. And if you're one of the unlucky souls that got invited to a wedding with a "fun" and "new wave" dress code, particularly one that makes absolutely no sense (see: "tasteful tropical," "bohemian black tie"), you're over the wedding before you've even downed your first cocktail.
That's why we've rounded up some of the more insufferable unique (and all 100% real) wedding dress codes out there and done the research to determine what's best to wear to each. And because we want you to be the best-dressed man in every room, always, these are the outfits that won't just fit the "Brooklyn Formal" dress code, but will ensure you're the most stylish guy there. (We don't, however, have a solution for you having to explain what your job as a "tech consultant" is nine times in a row.)
When it comes to any Western theme, the key is to have fun without dressing in full-on cowboy cosplay—so no cowboy hats or bolo ties. Denim on denim is the move to try but stick with dark washes or raw denim over stonewashed or ripped options (it's still a wedding after all). A slim Western belt and burnished Chelsea boots toe the line nicely between city slicker and country boy and if you really want to make the whole outfit feel "wedding-y," you could try throwing a lightweight brown blazer over your shirt (in this case, one made by a storied Italian suit maker). A paisley bandana isn't necessary, but is a great detail as a pocket square or tied around your neck and tucked under the collar of your shirt.
No matter where your personal style lands on the menswear spectrum (from monochromatic goth ninja to Pitti Uomo peacock), a wedding with a Brooklyn is just the time to embrace your inner fashion snob. Fashionable doesn't mean showing up in the most outlandish pieces in your closet, though; rather, it's about dressing down in the most tasteful, minimal way possible. A black jean jacket worn over a white button-up shirt is reminiscent of a suit or tuxedo, right? We say wear it with black suede Chelsea boots, which are the perfect balance of sophistication and badass. Now all you have to do is come up with some pretentious to say about Radiohead and you're good to go.
Anyone who uses the word "soiree" on a wedding invite in 2017 is lucky to have anyone show up (but you know, do show up if you've RSVP'd). We say take this as the perfect opportunity to dress like you're in one of those insanely stylish Mad Men party scenes (you know, minus the egregious racism and indoor chain smoking). In other words, loafers, khakis, a high-style polo and an easy-going blue blazer are all you need. To stand out from the golf-shirted masses, opt for a polo that's made in an intricate knit pattern (no one does it better than the legendary goddess of menswear Miuccia Prada) and some classic Gucci horsebit loafers.
Hawaiian shirts are everywhere right now, and there's no better time to wear one that a beach wedding. When you wear an aloha-style button-up under a khaki suit (that's the "business" in "tropical business"), the shirt actually stands out more than it would on it's own. (Pro tip: Putting any color or pattern against a neutral ground, like khaki, never fails.) And since this is a beach wedding, ditch your more dressed-up shoes in favor of a pair of light sand-hued suede sneakers and throw on some next-generation wayfarers, which you can put in your suit jacket pocket once the sun goes down. (They'll also come in handy when you're hungover the day after the wedding.)
"Sunday Best" is a dress code born out of the old school tradition of dressing up for church. And since many weddings still take place in churches, this dress code is actually one of the most logical of the nontraditional bunch. But for non-believers or people of faiths other than the one practiced by the church you've been invited, knowing what exactly "nice church clothes" means can be a little tricky. So play it safe, but not too safe. A check linen suit in a light hue is a subtle style swerve and everything else you wear with it can be lifted from your 9-5 rotation (striped shirt, solid navy tie, crisp pocket square, your best brown dress shoes). There are places to rock the boat style-wise, but someone else's place of worship probably isn't one of them.
While incredibly common on wedding invites, the "cocktail attire" dress code doesn't actually say a whole lot about what to wear. And if you're like us, what you wear to consume cocktails during the summer months runs the gamut from suits post-work to swim trunks by the pool. In our universe, wedding "cocktail attire" warrants your best suited look, something slightly cranked-up on the fancy scale from a suit you would wear to work. We'd suggest going with a crisp white shirt, a dark (if not black) tie, and your finest pair of freshly-polished black cap toe dress shoes (wingtips are fine, but a cap toe just looks cleaner).
If your adult friend/acquaintance/relative wants to treat their wedding like a Bar Mitzvah, then good for them. So should you be invited to some sort of Lord of the Rings-y, Star Wars-ish nerd fest, find the subtlest way possible to incorporate the wedding's theme into a suited-up look. Maybe that means you wear a C3PO pin and Darth Vader socks. Maybe you find a LOTR pocket square or slim tie. Honestly, the fact that you're even there at such an event is enough for us—all we're saying is don't be the guy who shows up in a full Chewbacca costume.