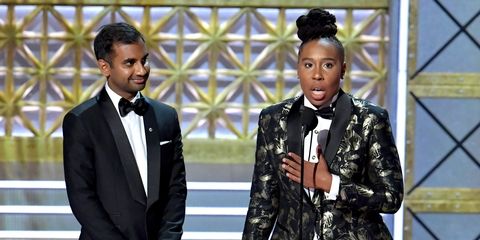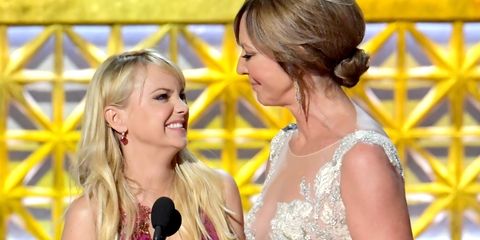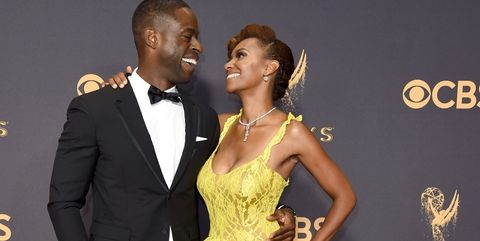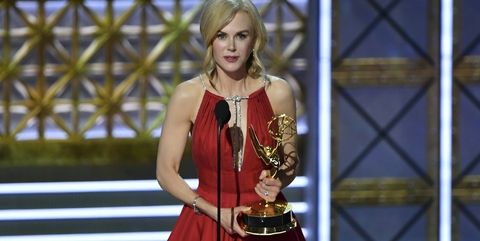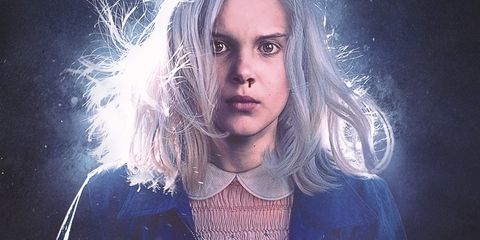 Every wedding is different, but this stuff still isn't appropriate at any of them.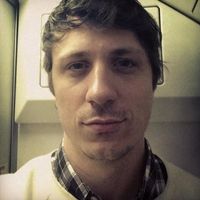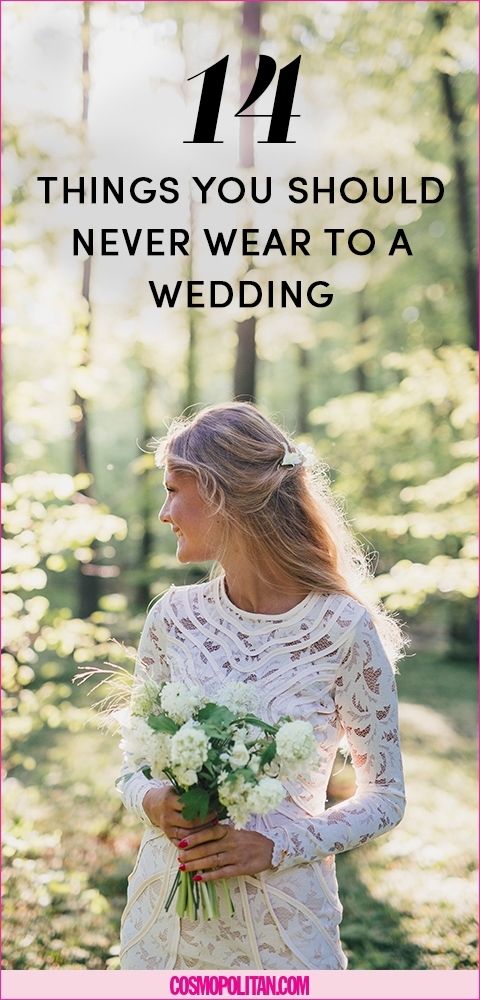 Whether you're a man or a woman, dressing appropriately for a wedding can be a struggle. What works for a back yard wedding might not be appropriate for a church wedding or vice versa, but there are a few things that should never be worn to any wedding, no matter how formal, informal, or uniquely themed it may be.
1. Solid White Dresses
It's not your wedding, so why are you dressing like a bride? Are you trying to stir some shit up? If so, you're certainly going about it the right way.
It's not that you can't wear any white whatsoever — white accents and prints are fine — just stay away from anything overtly bridal, especially white lace.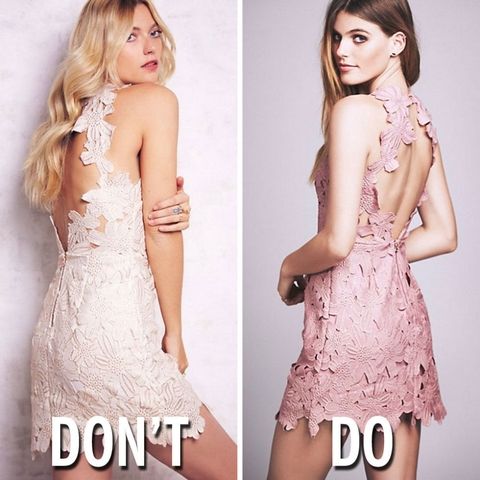 White Lace Dress, SAYLOR (Available at Free People), $250; Pink Lace Dress, SAYLOR (Available at Free People), $250
2. Sweats of Any Kind
It doesn't matter if your name is Juicy Couture, loungewear in never appropriate for a wedding. Not even in small doses. Not even just at the end because you're cold and your dress doesn't have sleeves and blah blah blah. Suck it up. Bring a real jacket, sweater, or wrap. Hanging out in the college sweatshirt you keep in your trunk for emergencies is just disrespectful. More likely than not, the bride and groom have hired someone to take photos of their big day and the last thing they want to see in those photos is you skulking around in some worn-out hoodie.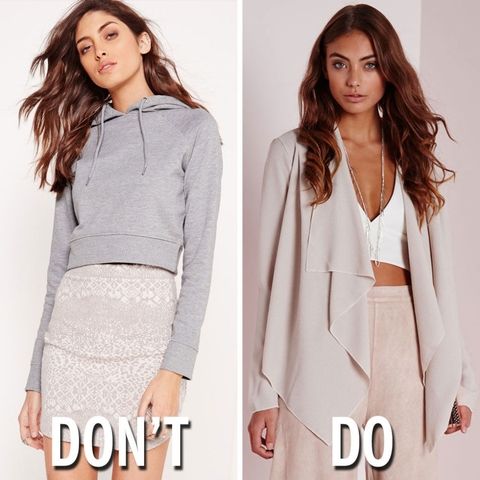 Cropped Grey Hoodie, MISSGUIDED, $29; Grey Blazer, MISSGUIDED, $24
3. Anything That Exposes Your Bra
This isn't brunch with your friend from the dog park, it's a freaking wedding. Pull it together. What, you seriously don't own anything you can wear without your bra strap popping out? Look, there's nothing wrong with bras. They're not shameful in any way. But they are underwear. And this is a wedding. So not exposing your underwear would be best.
The same thing goes for men. Dudes, pull up your damn pants and if your butt is too flat to hold them in place, well, there are these things called belts that are great for that. Show a little class. Don't worry, you can go back to letting it all hang out tomorrow.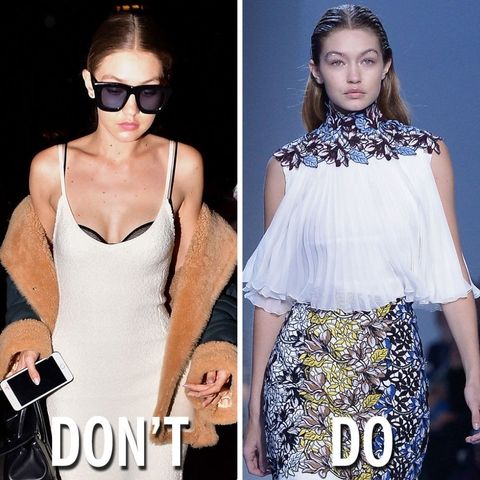 4. Drunken Clown Makeup
So what exactly is drunken clown makeup? Well, if you can still see your blush when you turn out the lights, you're probably pretty close. This is a wedding, not Ru Paul's Drag Race. Keep it simple. Think less contour and more non-tour, and save the body glitter and purple eyelash extensions for another day. (Side note: How completely, heart-stoppingly amazing would a Ru Paul's Drag Race wedding be?)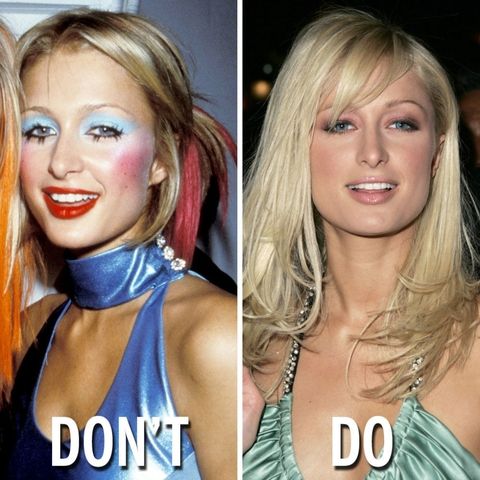 5. Animal Print
Unless you're attending a theme wedding in Altlantic City sponsored by Yandy and Ciroc Vodka, leave the animal print at home. No one is saying you have to wear a pink sundress covered in roses. You don't have to be girly at all if that's not your thing. You do you. Just do it with the understanding that this day is not about you and a leopard print mini dress is likely to draw a lot of attention.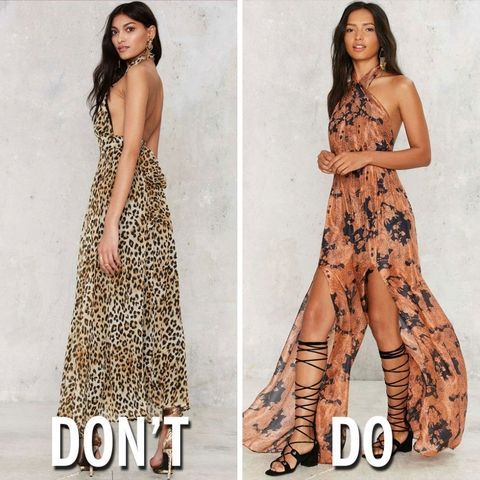 Leopard Maxi Dress, NASTY GAL, $47; Brown and Black Printed Silk Jumpsuit, NASTY GAL, $128
6. Flip Flops
When it comes to footwear, flip flops are about as casual as it gets. I don't care if they're made out of satin instead of plastic, they're still flip flops. What's that? They're bedazzled? Well, so is this plunger. Doesn't mean you should make it the centerpiece at your next big holiday meal. You wanna wear sandals? Fine. Flats? Have at it! There's not rule that says you have to wear heels, but flip flops are just not appropriate.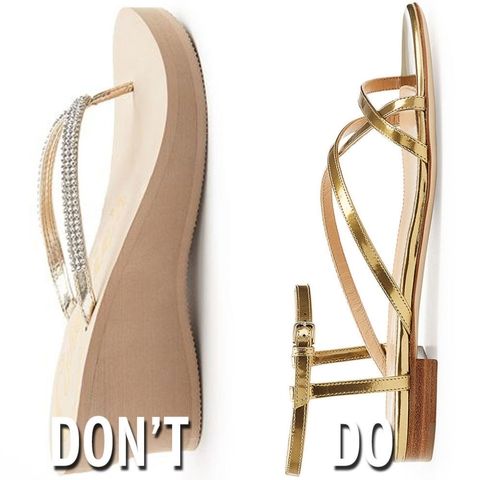 Gold Embellished Flip Flops, CANDIE'S (Available at Kohl's), $13; Gold Patent Leather Flat Sandals, SERGIO ROSSI (Available at Stylebop), $330
7. Denim
Jeans come in a variety of styles and for some more casual weddings a pair of nicely fitted jeans in a clean wash without any holes or distressing can be fine, especially if you really dress up the rest of your look. The thing is, most people who would even consider wearing denim to a wedding — be it jeans, a denim shirt, or a denim jacket — usually underestimate just how dressy they need to make the rest of their outfit in order to pull the look off successfully. Making denim work for a wedding is tough. If you're on the internet looking for tips on what not to wear to a wedding, formal denim styling may be a bit beyond your skill set at this point. Best just to forget about it all together.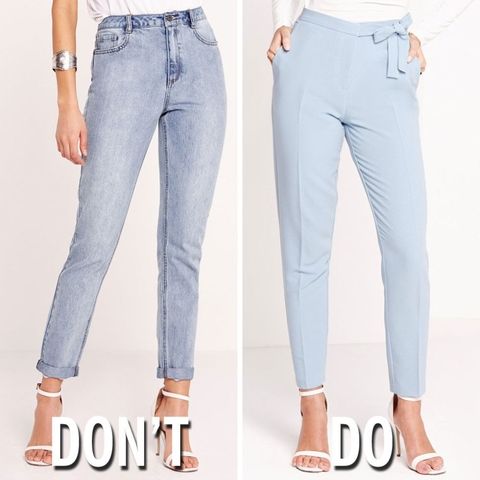 High-Rise Stonewash Jeans, MISSGUIDED, $40; Light Blue High-Waist Trousers, MISSGUIDED, $29
8. Short Sleeve Dress Shirts
Is your name Dwight and are you going to a wedding in a scene from The Office? No? Then kindly STFU and put on a shirt with proper sleeves. If you get too hot, you can always roll them up, but only after dinner. Don't be that guy in all the photos with his tie loosened and his sleeves rolled up before the vows have even been said. Are you uncomfortable? Well, you should have thought about that before you accepted the invitation. And no, a nice polo shirt is not acceptable either. Dress up a little. It won't kill you.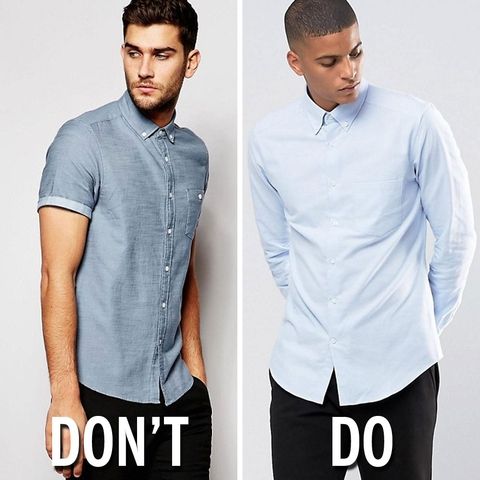 Blue Cotton Short Sleeve Shirt, ASOS, $32; Blue Oxford Shirt, REISS (Available at ASOS), $113
9. Head-to-Toe Black
This is a wedding, not a funeral! Lighten up already! I'm not saying you can't wear black, but there are so many other options to choose from. That said, if you insist on wearing black, at least make an effort to liven it up with a print or some less somber accessories.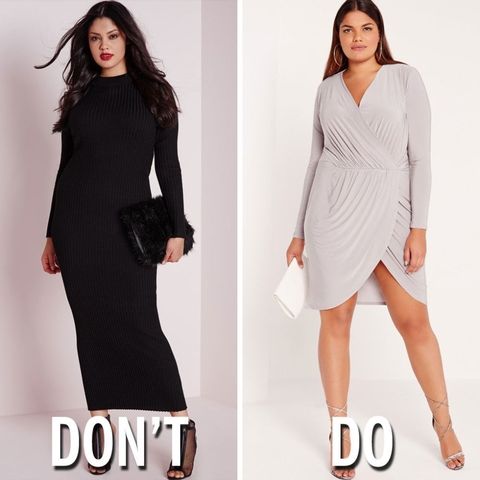 Black Long Sleeve Dress, MISSGUIDED, $48; Grey Long Sleeve Wrap Dress, MISSGUIDED, $48
10. Shorts
Guys, this one is directed at you in particular. Yes, it sucks that women get to wear short dresses on hot summer days while men are forced to remain fully covered in long-sleeved shirts and pants. Oh well! Deal with it. Dip your body in antiperspirant, pack your pockets with chemical ice packs, and imagine you're one of those penguins in that documentary about Antarctica. Whatever. It doesn't matter. Just wear the damn pants.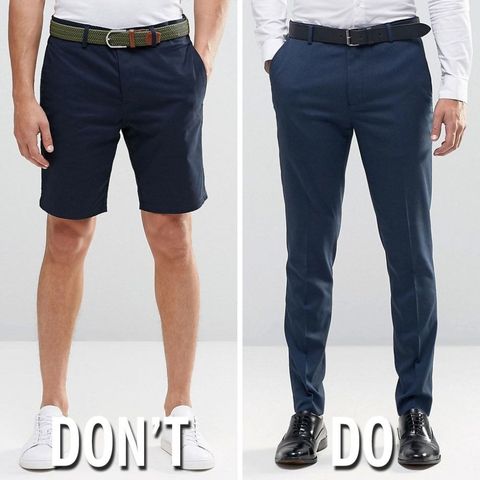 Navy Blue Shorts, RIVER ISLAND (Available at ASOS), $36; Navy Blue Trousers, NEW LOOK (Available at ASOS), $29
11. Hats
Again, this one is more directed at the men than the women. Not all hats are forbidden, but unless you are a legitimate cowboy attending a country wedding out west, it's unlikely that you will ever have cause to wear a hat at a wedding. Certainly, baseball caps, beanies, and anything by Kangol have no place whatsoever at a wedding. They're just way too casual. Besides, even if a hat is appropriate for the situation and your look, you're still going to have to take it hat off when you're indoors — you know, because manners — and then you're just going to have hat head, which is not a good look on anyone.
Ladies. the hat rule is a bit looser for you, but a good rule of thumb is, if you find yourself windering even slightly if the hat you want to wear is fancy enough for a wedding, it probably isn't. Seriously. Don't push it. You're not British and this isn't the royal wedding. Just do your hair nicely and leave it at that.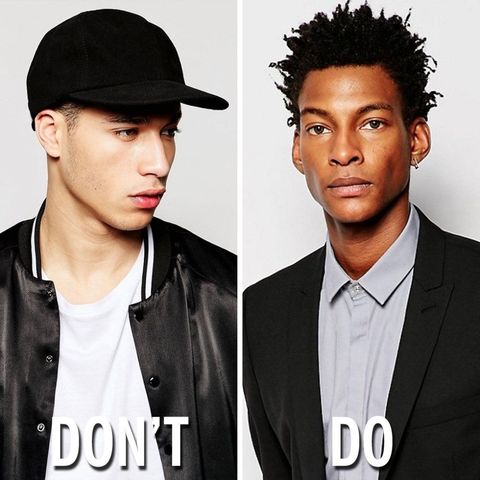 Black Faux Suede Baseball Cap, ASOS, $16
12. Sexy Sh*t
Tight, short, and low-cut all at the same time is just not appropriate for a wedding. It's not like you have to shroud yourself in a pastel sack. Far from it. Sexy elements are fine at a wedding, as long as you limit yourself to one at a time.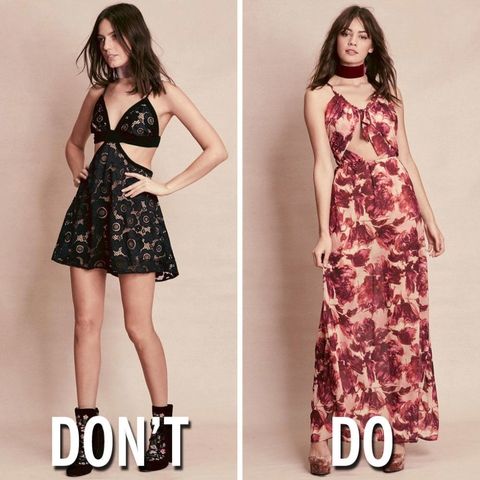 Black Lace Dress, FOR LOVE AND LEMONS, $266; Red Floral Maxi Dress, FOR LOVE AND LEMONS, $252
13. Neon
The bride should not be able to pick you out in every picture by the distractingly lurid color of your dress. This is not the time for lime green, hot pink, or electric blue. This is not your junior prom. This is someone else's wedding. Don't steal the focus. Tone it down.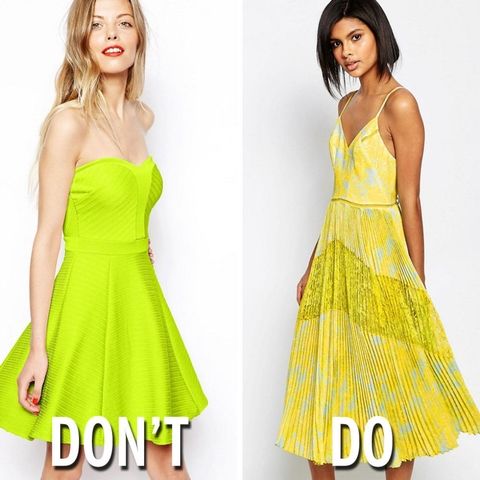 Lime Green Strapless Skater Dress, ASOS, $21; Yellow Lace Insert Midi Dress, WHISTLES (Available at ASOS), $253
14. Sequins and Shine
You're a wedding guest, not a disco ball. Are sequins and shiny things, like, your signature look? Too bad. This day isn't about you. Stop trying to be the center of attention. That said, a little razzle dazzle won't hurt. Just make sure you're only using bling as an accent, not making it your whole look.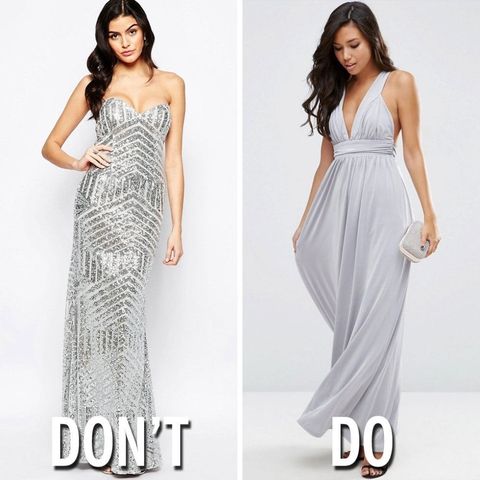 Silver Sequin Dress, FOREVER UNIQUE (Available at ASOS), $131; Silver Tie-Back Maxi Dress, ASOS, $89